Taking your car to Europe
As the summer holidays draw near, you might have planned a road trip to Europe. There are obvious things you will need including your passport, euro's etc., but what about preparing your car for the journey? There are several things you will need to consider before taking your car across the Channel that you may not know about. Our handy checklist will make sure your car is holiday ready:
Insurance
This one may seem obvious, but you should check your insurance policy to ensure you are fully covered for taking your car abroad. Some insurers may only cover you for third party fire and theft whilst abroad, so you may wish to add extra cover for the time you are away. Make sure you let your insurer know which countries you are planning to visit so they can arrange appropriate cover.
Breakdown Cover
If you already have breakdown cover, check it covers you in Europe as you may need to add extra cover. There are several European breakdown cover options available on price comparison sites, and you can get these annually or single trip. Before you purchase, check that the cover includes everything you may need, including alternative vehicles to use if yours is needing repairs, or a monetary equivalent to allow you to hire a car if needed.
Documentation
Most European countries will require you to carry your V5 if you are the owner of the vehicle, or a VE103B if your car is leased. You will need to tell your leasing company you are taking the car abroad in advance of your holiday so they can get this form organised for you. You will also need to carry your passport, driving licence, car insurance details and your DVLA driver record (this can be found here: www.gov.uk/view-driving-licence). It's a good idea to get an International Driving Permit too from the Post Office.
Motoring kit
You must carry certain items in your car when travelling in Europe. These include things like Hi Vis Vests, Warning Triangles and Breathalysers. What is compulsory varies by country, but here's a list of things it's worth taking with you:
Reflective jackets (there must be one for each passenger and be kept within the cabin of the car)
Warning triangle (compulsory in most countries)
Headlamp beam deflectors (depending on your car, you'll either need deflector stickers or have to adjust the beam manually)
Breathalyser (compulsory in France)
Safety helmets are compulsory for riders and passengers of motorcyclists and moped users
GB car sticker (if you don't have a GB Euro number plate)
First aid kit (compulsory in Austria, France and Germany)
(source: RAC)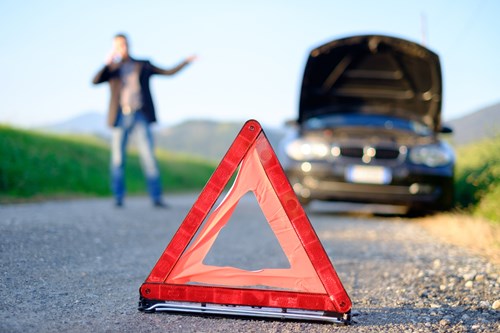 Driving on the right
This is another obvious one but very easy to forget! You will need to go around roundabouts the opposite way and out of junctions differently too.
Speed Limits and Fines
Across Europe there are varying speed limits (all in km/h) and differing fines for speeding. Generally speaking, the limit for motorways is around 120-130kmh which is around 80mph. This isn't the case in Germany, where some of their autobahns don't have speed limits, but make sure you check this.
Rural roads are around 80kmh, town and city roads are usually around 50kmh and residential roads are 30kmh.
In France, you will find the speed limits may change according to the weather, and in Scandinavian countries the police may regulate the speed limit daily depending on the conditions.
If you are stopped by the police in Europe, they have the power to give you an on the spot fine which you will have to pay there and then, so make sure you carry some cash for this unfortunate eventuality. The amount varies but can be as high as €750. Not paying could result in your car being impounded.
Motoring offences
Most of the motoring offences in Europe are the same as the UK, for example, using a mobile phone, not wearing a seatbelt, drink driving and driving through red lights, but there are some additional things to be aware of.
Because you will be driving on the right, you will need to ensure that you have headlight beam converters fitted so as not to dazzle oncoming drivers.
Also, it is illegal across Europe to have any devices that can pick up the location of speed cameras, including those built in to satellite navigation, therefore you will need to disable this feature before travelling abroad.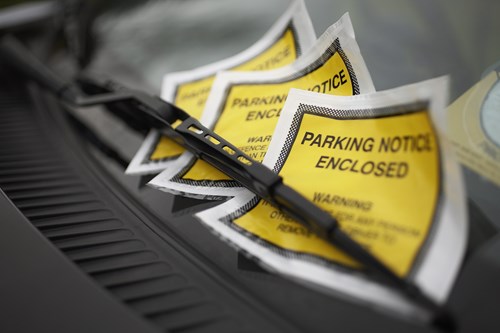 Toll Roads
Toll roads are a common feature in Europe, and are usually paid in proportion to the distance travelled. This is particularly true in Italy and France. Other countries that have toll roads include Croatia, Hungary, Portugal and Spain. Germany doesn't have toll roads so you don't need to worry there!
In some countries you may need to purchase a 'vignette', a ticket to display on your windscreen instead of paying tolls. If you don't display one, you can be hit with a fine. Countries that operate a vignette system include Switzerland, Austria, Slovenia, Hungary and the Czech Republic. You can usually purchase vignettes in service stations next to the border patrol for countries that require them.
Crit'Air and low emission zones
To restrict traffic and reduce pollution, there are a number of schemes in place across Europe where you have to pay to drive through urban areas, or where access is restricted at certain times. This is usually in the form of buying a sticker, or vignette to stick on your car.
France recently introduced the Crit'Air scheme. You will need to purchase a sticker to display on the windscreen, and the colour of the sticker will be dependent on your vehicles emissions. Stickers are a fixed price of €3.70 plus postage. If you fail to display a Crit'Air vignette you can be fined between €68-€135 depending on the category of your vehicle. Make sure you apply for a vignette in good time as it can take up to 30 days to arrive.
Germany run a similar sticker system across the country so it's best to get a sticker before you travel (they are available online for €6, or you can get one from a service station)
To find out about other low emission zones across Europe, please visit https://www.urbanaccessregulations.eu/